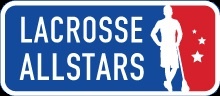 Spencer again welcomed the touring LaxAllStars to London on their stop-over before defending the Copenhagen Cup in Denmark.
Their tour schedule this year required the game to be played on Monday evening, with another game in London on Wednesday evening at Walcountian Blues.
The two teams warming up for the 7pm face-off.
The captains and referee's Simon Peach and Peter Compton deal with the pre-game business.
The first quarter ended 3-1 to Spencer. Needing goals, the visitors on the attack, but they found it difficult to create high percentage shots and many were easy for Rick to gobble up and clear back up-field. Some of the Spencer players had not played since the close of last season back in April so half-time allowed for a much needed sit down. This was well deserved as the home team were playing great lacrosse and led 9-2 thanks to excellent team-play and lethal finishing from Bill Parker and Rob Holmes. At the end of the 3rd quarter, the Spencer lead was 12-3. A tail of two benches. The fact that the visitors were formed from all corners of the USA, they needed games like this to understand each others play and gel as a team. Last year was a similar story and they found their rythmn as they arrived in Denmark so we hope the same will apply this year. Under the floodlights on the Spencer astro field, the final score was Spencer 14 – 3 LaxAllStars. Both teams celebrate a competitive game. Perfect for the Spencer 1st team to build towards the forthcoming league season, and the challenge the visitors needed to prepare for the tournament in Denmark.
Spencer Squad;
Goalkeeper: Rick Bone
Defence: Roo Cheetham, Ant Kirkwood, Bill Fisher & Alan Keeley
Midfield: James Morrison, Josh Dodd, Rob Arnott, Rob Clarke & Will Walker
Attack: Bill Parker, Rob Holmes & Liam McGreavy